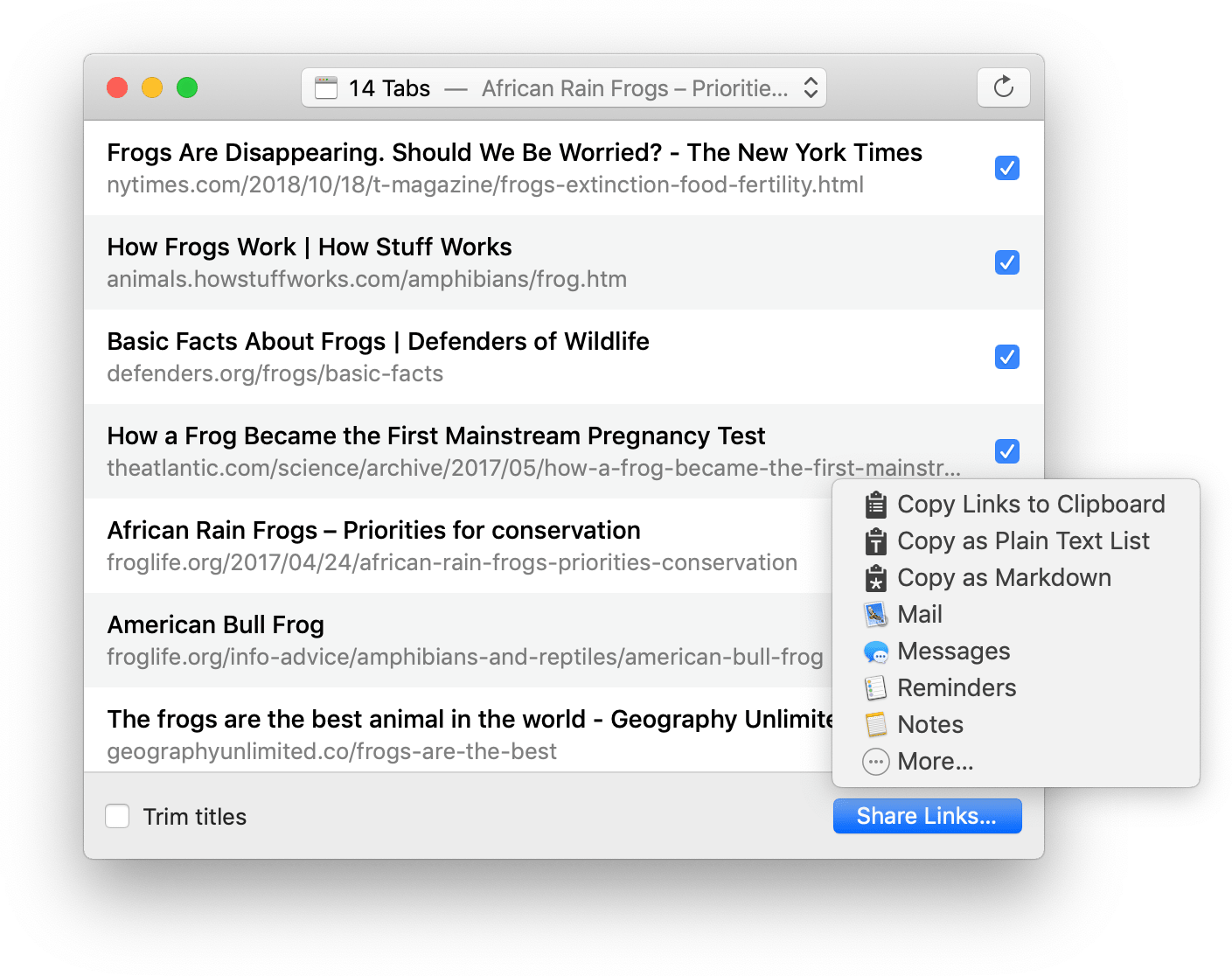 Share Safari tabs as links in one click.
Your Safari tabs and windows appear in the Tabs to Links panel. Press Share Links to export your tabs as a list of links to Mail, Notes, Reminders and other apps.
Use Copy Links to Clipboard and the links are ready to paste into any app on your Mac. You don't even have to move the mouse. Just hit ⌘C.
Copy as bulleted rich text links, plain text or generate Markdown list syntax.
Available right in your browser window.
Safari extension requires macOS 10.4.4 or later.
As well as the standalone app, Tabs to Links is available as a Safari extension. Select from tabs in the current window and share links to the clipboard, without leaving your browser.
The extension is bundled inside the Tabs to Links app. There's nothing extra to download. Customize your Safari toolbar to put the Tabs to Links button exactly where you want it — or disable it entirely.

Intelligent time savers.
Click in the title bar to choose a window of tabs to focus on. Select All Windows to combine links from all open windows into a single list.
Frequently, websites add their site branding to the page title, after the document name. Enable Trim titles to remove repeated text from the end of titles. The redundant words are detected automatically and stripped when you share.
The trimming operation is previewed inline. You can see what will be cut, and toggle the setting off if appropriate. If you only want the URLs, hold the ⎇ key to share links without titles.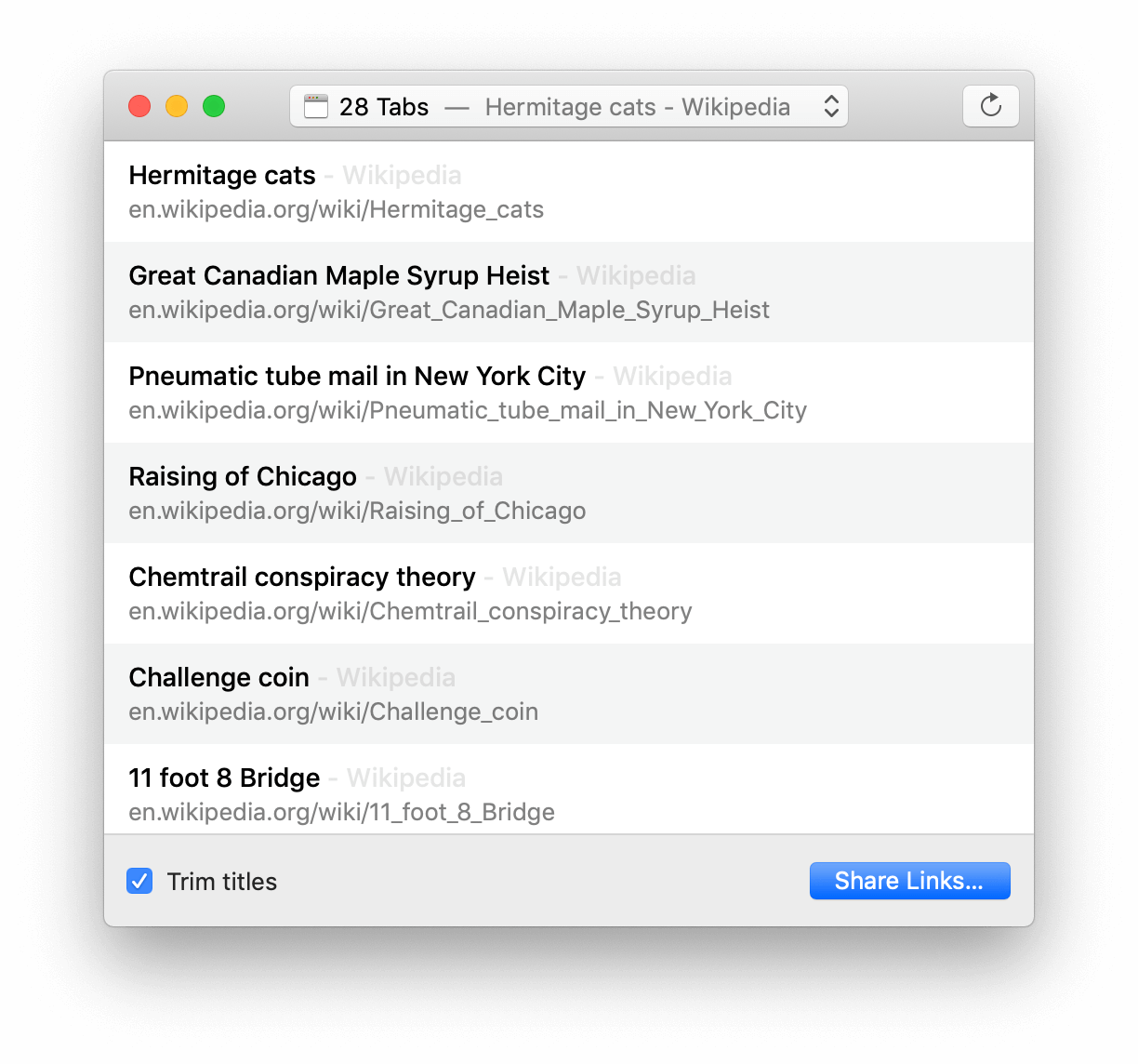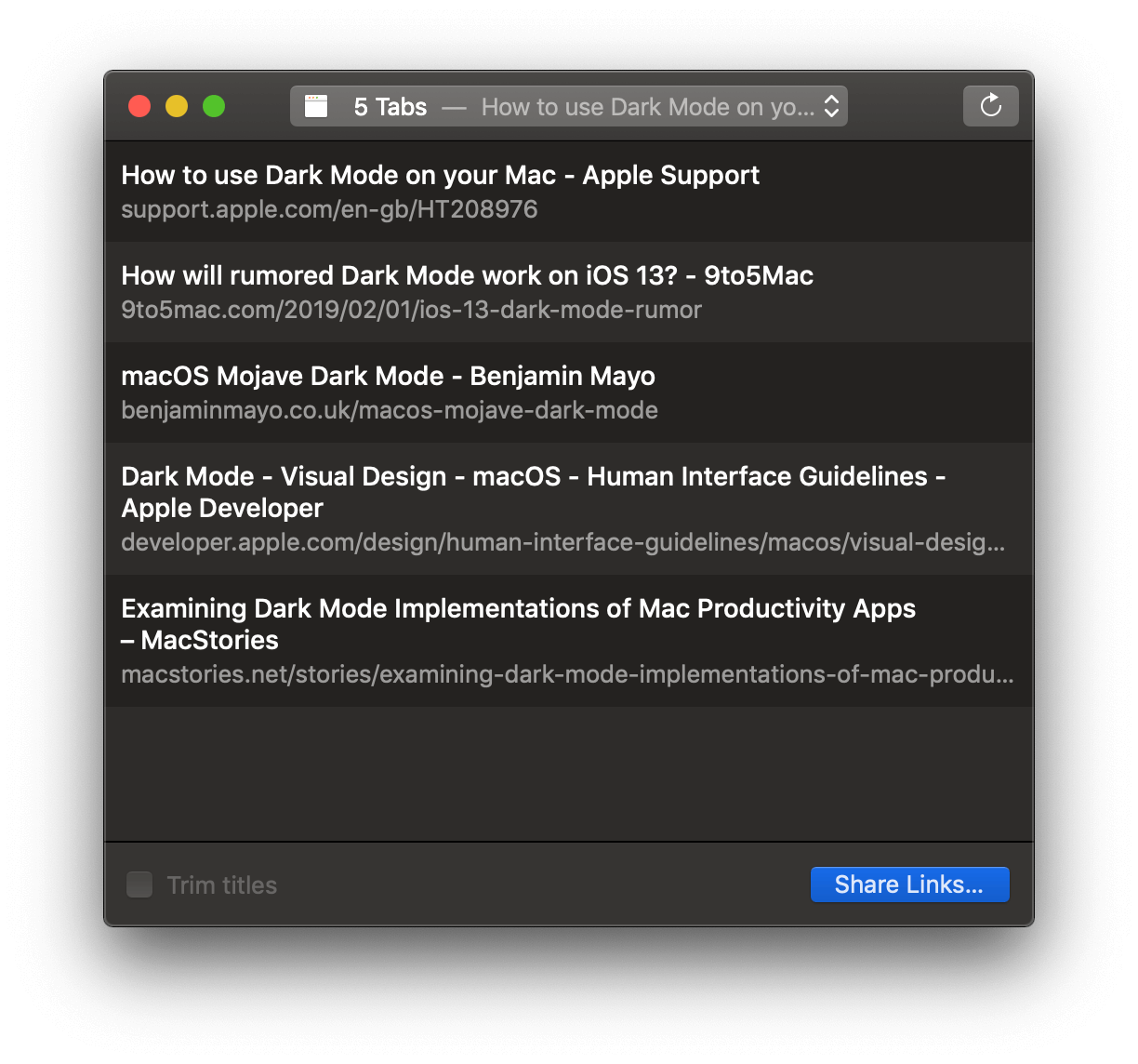 Respects the platform and your privacy.
Integrates system sharing services. Convenient keyboard shortcuts. Looks great in Light and Dark Mode. Sandboxed for additional security.
Tabs to Links fetches your open windows and tabs, and the data does not leave your Mac. It cannot read your browsing history. Trim titles analysis happens locally on your Mac.
Buy now.
Get Tabs to Links is available in the Mac App Store for $3.99. Buy once and use forever.
Compatible with macOS Mojave and the Safari web browser.
Read the FAQs for more information. Get email help if you require further assistance.